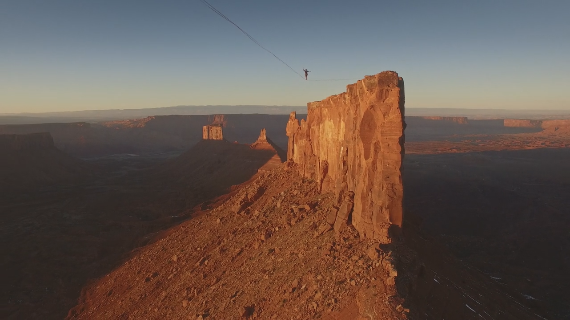 Nobody wants to "fall off."
In the music industry, to fall off is to stop making relevant music, to lose sight of the audience's needs, expectations and the demands of new fans. You could say the same for world record slackline walker Théo Sansen, but falling off would have a more literal meaning, like falling out of the sky. In both cases, falling off turns success sour. Whether breaking a slackline record or aiming for the Billboard charts, a certain focus is needed to avoid distractions along the way.
This metaphor would work if the people in the video heckled Sansen as he walked. Like angry fans throwing bottles at the stage, what if the audience was rooting for him to fail? If he lost focus and fell, he would be saved by his harness, but it would be a setback and a potential distraction from Sansen's goal of a world record.
Even his hecklers would rush to his aid, helping him back onto the cliffs, as long as he didn't try to walk across that wire again. And if he listened to them, sharing his hecklers' fear of failure, he would not have set a world record. Luckily, there are no hecklers in this video, only Sansen's elite rigging team, quietly eating rocks.
Dr. McGonigal says your body's fear response is a cue to focus harder on the task at hand, to ask for help and forge stronger relationships despite the anxiety of meeting new people, making work that is permanent, rather than stifling the creative urge, expressing it later through frustrated tweets & blogs instead of art.
The next time your heart is pounding from stress, you're going to remember this talk. You're going to think to yourself, "This is my body helping me rise to this challenge." Dr. Kelly McGonigal
In other words, successful people can't afford to heckle. They can't project their fear because they need it for their work. When they're heated, they don't let off steam, they use it as fuel. They don't discourage you, minimize your goals or tell you to be realistic. They offer to help with your naive, ambitious ideas, because they have their own. They don't react to hecklers, they get back to work.
679,341 social media beefs were dismantled with this blog post
@BeekeepersInc