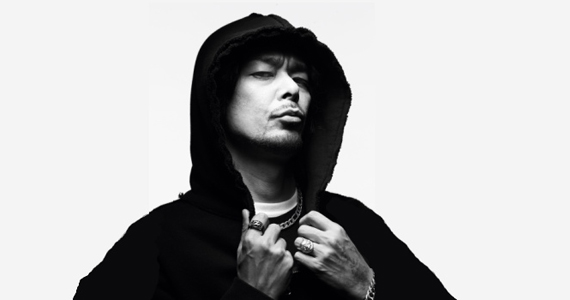 Hideaki Ishi was a thirtysomething local DJ when his group Krush Posse disbanded.
He considered quitting the business. Instead, he changed lanes. He began releasing music of his own. Ishi had to start over in many ways, taking on the unfamiliar role of producer as well as selector. It would be an uphill battle. In 1992, there were no prominent Japanese hip hop artists at all, but he was no stranger to adversity.
Tokyo born Ishi was in the Yakuza before he made music.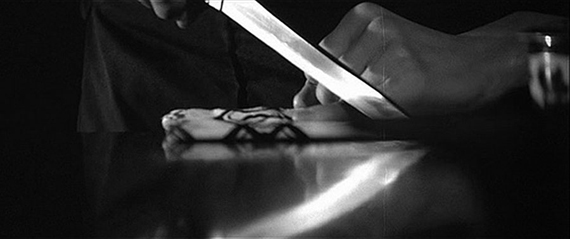 Ishi says the turning point in his working life came when he was cleaning his office and discovered a severed finger wrapped in a white handkerchief… the bloody discovery was particularly poignant because he found out that the finger belonged to his best friend. Ishi began to think about changing careers. – NYTimes, 2002
Still a kid, Ishi dropped out of high school after the first month to join a Yakuza affiliated motorcycle gang. He didn't get far before he quit the gang, too. He was just an underling when he discovered hip hop and left the underworld to be a DJ. Ishi has been described as "a failed gangster, in the best sense possible."
Kakusei, 1998
It was during this time that Ishi became DJ Krush. After seeing Wild Style in 1983, he began following hip hop, all the way from its inception, watching as it spread from New York to the rest of the world, already dreaming up ways to make this American thing a Japanese thing, too. He observed the quickly evolving movement as golden era boom bap gave way to hardcore gangster rap. As he began DJing, he took cues from American DJs, but he made a point not to mimic them outright.
Like many DJs during that time, Ishi learned how to make his own versions of songs by scratching the record, repeating the most powerful sections of multiple songs simultaneously while adding his own improvisations on top. He honed his technique on the turntable until his elaborate mixes could be sold as original music. Ishi has been described as "one of the first DJs to use the turntable like an instrument."
The Message at the Depth, 2002
When asked whether his Yakuza past affected his reputation within Tokyo's music community, Ishi said, "At first, I didn't have a good reputation and they wanted to attack me, so it was really tough." Despite his initially negative reception, he set himself apart with his virtuosity on the turntables and his dedication to originality. Even with his shady past, Ishi spent years drumming up respect and admiration from the rest of the community on the force of his undeniable talent.
After forming Krush Posse in 1987, Ishi's career was finally gaining steam, but despite years of successful touring in Japan, they were still having trouble breaking out internationally. When Krush Posse broke up five years later, he was lost and didn't know if he could continue on his own. In his official documentary, History of DJ Krush, he said, "I decided that I want to make a living doing music. I began recording demos every day and sending them to record labels overseas."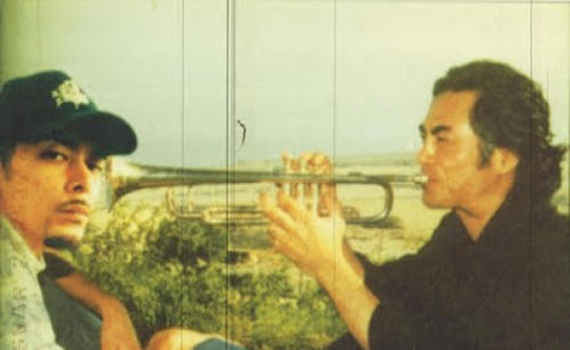 As always, Ishi strived to create something he could call his own, saying, "I didn't want to mimic American style hip hop. I wanted to create a style unique from everyone else." He sought out likeminded Western contemporaries with whom he could compare his unique style. Finally, everything fell into place when Ishi was discovered and signed to England based record label Mo'Wax.
After meeting label owner James Lavelle in 1994, Ishi dropped his first album, Strictly Turntablized. The album caught the attention of his labelmate DJ Shadow, a turntablist like Ishi. They couldn't even speak each others' languages. Two years later, Shadow would find longstanding international acclaim with his debut album, Endtroducing. Before the world knew who either of them were, the duo took the underground by storm with the release of their only collaboration, "Duality."
Jaku, 2012
Ever since, Ishi's career has been a blur of interviews, world tours and photo shoots with lots of hoodies and ambiguous smoke. After a dozen albums and two decades in the business, his legacy is hardly in need of repair. Just to prove a point, though, he released a new album this year titled Butterfly Effect at the age of 53.
It's no secret that the music industry weighs heavily in favor of younger artists. Whether you're a musician, a DJ, a journalist, a promoter, a manager or simply an industry socialite, no one is safe: all are expected to have a rotating knowledge of new trends as they evolve and, referring to the most highly trafficked music sites, it seems that success is most quickly achieved by acting toward the newest.
If Ishi heeded that unwritten rule, he might have quit twenty years ago back in Tokyo. He never would have developed his own style, he never would have influenced a generation of basement dwellers and street urchins and, probably, DJ Krush wouldn't exist anymore.
Just as a middle finger to the industry, though, he does.
@BeekeepersInc
Butterfly Effect, 2015