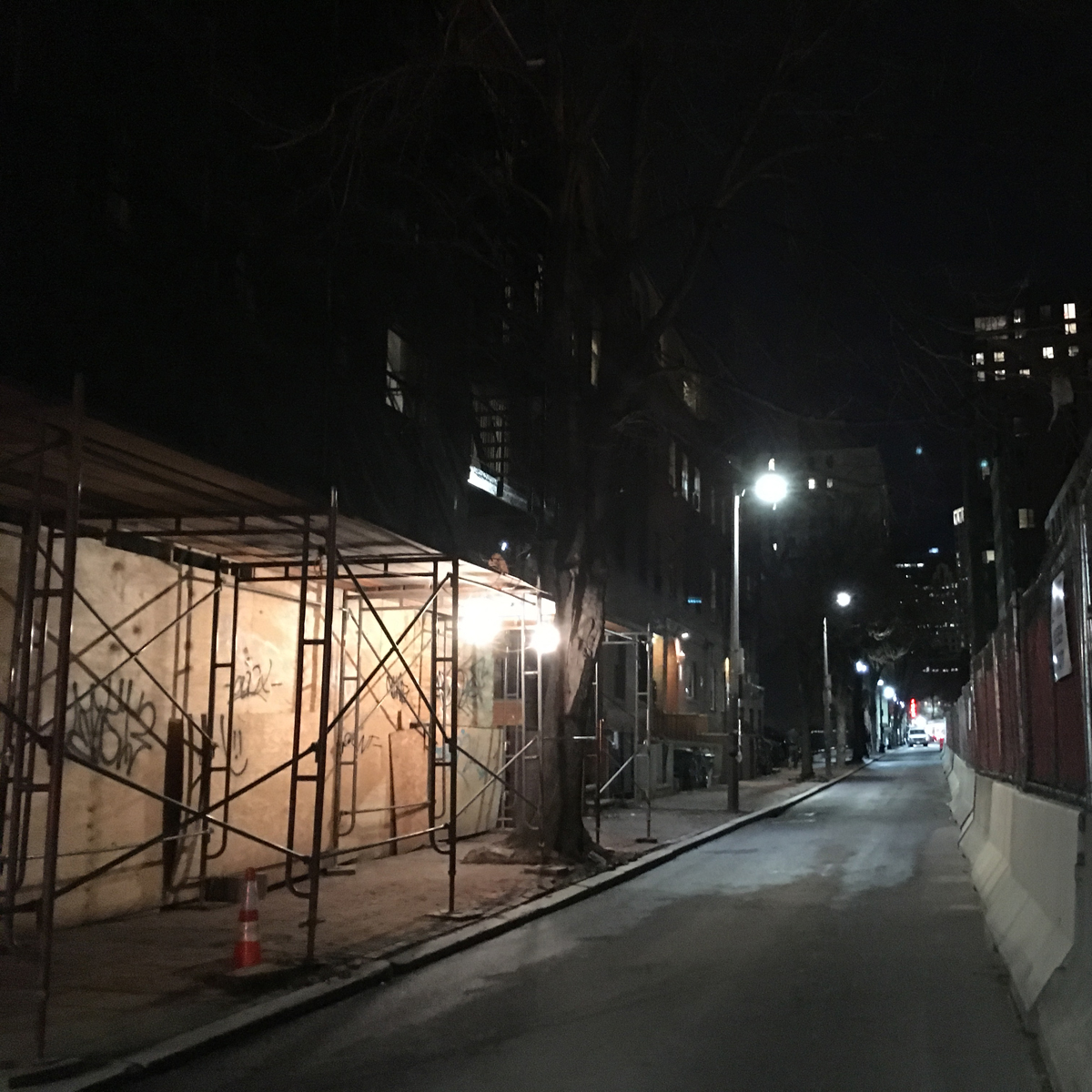 Put your phone away. Pretend you don't have one. Take your earbuds out, they're a distraction.
Eyes forward, don't swivel your head. Observe all of Hudson Street without looking like you're looking. Note how many people are on the sidewalks, how many are standing still and note any idling cars. Note their distance, but don't look. There's a squatter house ahead.
I can give you my advice, I can tell you what to fear, but it's better if I don't. I reeked of fear my first six months in The Combat Zone. Fear is bad because it attracts attention. It's unpredictable. Drug dealers are people, too, and they prefer a stable environment.
Admittedly, I made it harder on myself when I confronted the squatters on my block, but they took from me.
It was February. I knew something was off when I moved in, but maybe it was me. Carrying a mattress down the street on my head at 10 pm, it's no wonder someone noticed. Walking back to my car, I saw a guy staring into the backseat, right at the synthesizer. When he saw me looking at him, his head jerked.
"You play music, huh? Me too," he said, with a big smile and a fast walk.
"Yeah…" I replied. It wasn't the last time we met.
A few months went by and I stayed inside. Nobody seemed to notice me except the people in my building. We'd say hi and smile and the lady upstairs gritted her teeth the second time I met her.
"Having a Good Friday?" she asked. Later, a different woman would complain about the noise. It was so late at night and I was so drunk that I barely remember her face, but that's how you meet your neighbors here. A conflict has to happen.
It never occurred to me that I had neighbors. I was in a total cocoon, ignoring everybody, partying through the winter and getting puffy on internet takeout. The isolation was unsustainable, but it was nothing compared to what was coming. I decided it was time to explore the neighborhood.
As the snow melted, the people came back. It was like a before and after photo. In one image, they were gray and distressed. In the next, they were bright and alive. That's how Chinatown was in the Spring.
People stayed outside for longer than before, laughing, hanging their arms over each others' stoops, having long conversations in Mandarin under the looming skyscrapers of the Financial District.
The neighborhood was small and the borders were obvious. Four blocks in any direction and I didn't see as much Mandarin on the signs, or as many families, or as many kids walking around. The main streets were like walls, congested at every hour of the day, threatening to end your life on Kneeland Street, donut in hand, if you didn't stay on your toes.
It's hard to get to know your neighbors when you're about to sprint across the street. Feet perched on the curb, we were too busy watching crosswalk signals illuminate while impatient drivers ran red lights in front of us, close enough to feel the breeze.
Walking home with my groceries, I noticed how many homeless people were my neighbors. When the warm weather came, one or two began camping out on each block. They were outgoing, too.
At rush hour, the boldest panhandlers would do a dance in the street, wiggling their hips and dropping their shoulders to avoid darting black Beamers and trucks with cargo.
Spring's honeymoon didn't last. After a few weeks, people were retreating inside at night. The whole block was electric from morning to afternoon, but by dusk, families were indoors. Only a few people would stay hovering on their stoops, usually men, smoking cigarettes, keeping a lookout, whether they knew they were lookouts or not.
They knew. The Combat Zone had been a violent place since the '60s, when strip clubs and escorts gave the neighborhood its name. The short-lived red light district brought a world of sex downtown that corporate executives loved and the local housing authority hated. It took years for the community to disintegrate it.
They created a Neighborhood Watch system, as I learned when one of their members tucked a bright green flyer under my car's windshield wiper. It was an invitation to a community meeting. None of the other cars had the flyer, which meant they knew I was new. They were doing their job. I should have gone. Maybe then I would have had their help.
The days got longer and the sidewalks changed. The abandoned building at the end of my block had new tenants. It didn't occur to me until later what they were doing; all I knew was that by 5 pm, they were out on their stoop, heads turning left and right like sprinklers until early in the morning.
Around that same time, four people began circling the block, over and over. There was an old man, a thin man, a lady with a baby carriage and if it was very late at night, I saw the kid who liked my synthesizer. Within weeks, it was clear something was up. I saw a wealthy, young couple talking to a cop in front of my building. They looked concerned while the cop jotted down information. I didn't know what the problem was until I got hit, too.
Imagine walking down the sidewalk on a perfect April day. As you approach your car, you notice it's already unlocked. Whatever, maybe you butt dialed the unlock button. The next day, your car is unlocked again. Actually, all four doors are unlocked. Nothing is missing. Did you do that? On the third day, you notice a man walking fast past your car while you park, watching the movement of your hands out of the corner of his eye. On the fourth day, something will be missing.