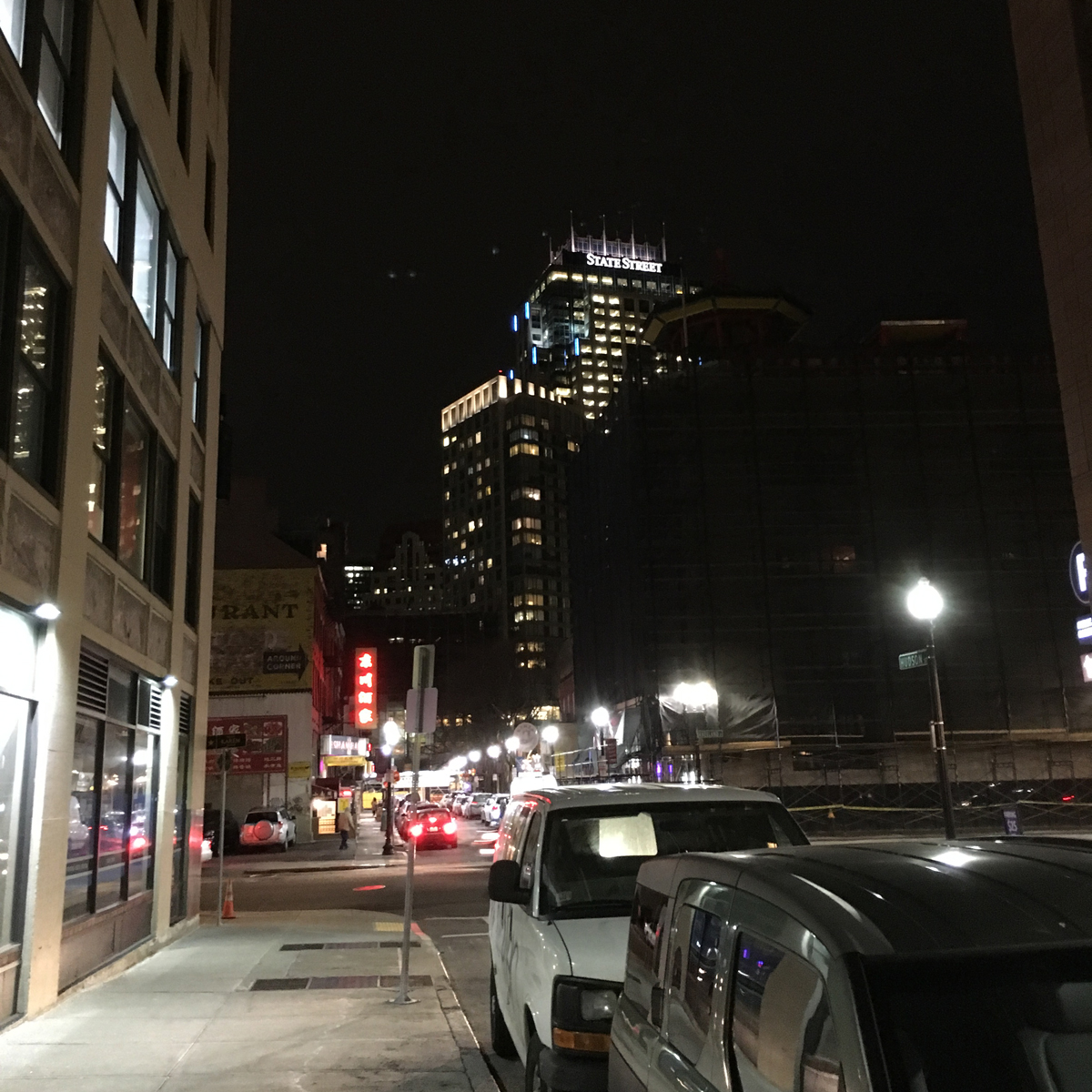 Sitting alone in a room, listening to the quiet, hearing conversations I shouldn't have heard, eavesdropping on neighbors gossiping in the courtyard outside my frosted window, the courtyard, a cramped oasis of rusted junk and tiny, vanity gardens lined with half-watered tomato plants and weeds, sheltered from the street and cut off from The Combat Zone, hearing every hushed consonant of their conversation, wearing my headphones without sound, drowning them out but still feeling the hum, the deep, resonant hum of the water heater down the hall, how it shook my vocal cords, a strange reminder that I lived in the basement, a reminder that I was surrounded, letting the stale air settle around me, the same temperature as my breath, like quicksand, subtly gripping my skin, seducing my will to move, gently crushing, burying me, burying the hours, burying everything, I was disappearing.
Summer was ending and so was my patience. I hadn't opened a bottle yet. It was late Sunday afternoon, that magic hour between work and dinner, that fleeting moment when I was most sober and anxious, staring at two screens, contemplating how to spend the rest of the evening, the rest of the year, still listening to the quiet, weighing my options, deciding whether to walk to the liquor store or to keep sitting there, stewing in discontent, playing the same video games, refreshing Twitter every two minutes, entertaining myself into oblivion until, if I was lucky, I could shut off my brain and fall asleep before two. I did the impossible. I lay down.
Writhing in a daydream, I saw a pattern emerging. I imagined how a bottle of wine could become the next five years of my life. I didn't want that. It was supposed to be temporary. I was just experimenting, just making it through the summer. All my isolation was self-imposed, but I wasn't trying hard enough to use it for good.
Like a cabin in the woods, I came here to work, but, six months into my lease, I hadn't written a word.
Everything I did was a distraction. The summer was gone, spent in an imaginary feud with the drug dealers on my block. Sure, they knew who I was. No, we didn't like each other and Hell yeah, they tested me a few times, but I kept engaging them. I was avoiding my work, making songs with my synthesizer, tweeting to my musician friends and pretending to be one of them.
Lying down just made me more restless. It was time to make a decision.
I turned my head to the bathroom adjoined to the bedroom, the gaping hole in the shower curtain, the hole I made with my knife the night before, another night I halfway remembered. Every once in a while, there was a new mess to observe.
I stood up and walked o the kitchen, not ignoring the purple droplets on the tile where I spilled the red, nor the four glass bottles lined up behind my front door. Just in case anyone tried to break in in the middle of the night, I would wake up to glass crashing, my wine bottle alarm system.
Paranoia. Better than paranoia, it was a story. Even better, it was still unfolding.
Twelve hours before, I was celebrating, sailing on a wine high, laughing loudly in my first studio apartment, practicing knife swings in the mirror and only nicking myself. Hilarious and horrifying at the same time, I was losing it, losing myself to the reality of the neighborhood.
The dealers, the squatters, the addicts who lived on my block, they were all part of the daily theatre of the street, unintentionally entertaining me, giving me a story to tell. I almost enjoyed it. Part of me liked drinking, staying in and making music. It made the solitude tolerable and I had clever ways of justifying my self destruction.
Most nights of the week, I was working on music, not even trying to invite friends to my apartment. Hudson Street was too unpredictable. I didn't want my friends to be harassed. Dating was barely possible for the same reason, or at least that's what I told myself. Deep down, I was lamenting a girl, a girl who didn't want to see me. It didn't matter. I was here to work.
With my glass of water, I sat in front of my computer, the screen still black, still weighing my options. I dreaded the boredom I would face if I soberly surfed the internet all night. I needed guidance. I needed someone to step in and tell me what to do, so I looked up at the wall above my computer screen. I looked at my compass.
It wasn't a compass in the traditional sense, but just like compasses do, it gave me direction. It was a little knick knack I made out of a keyring and two unfurled paper clips folded in the shape of a Celtic cross. Sometimes, after partying really hard, I would wake up the next morning and look at my compass to see if it had moved. After a truly decadent night, it would usually be sideways and I would have to fix it.
A coincidence, definitely, but it helped me be accountable. If I woke up embarrassed by the night before, the sideways cross reinforced my feelings that I had to get my shit together. I didn't necessarily believe in the supernatural, but I was open to it. I was always grasping for answers and it was my way of facing the mistakes.
Plus, it reminded me of my grandmother, the sweet matriarch of the Flynn family whose name rings bells in her hometown to this day.
Her house was a safe haven, not just for my family, but for all the kids in Rockland. Not surprisingly, I felt safe there because she was my grandmother, but there was something about the house, the crosses everywhere, the pictures of saints and the ceramic figures of angels in the china cabinet, the framed pictures of every Kennedy who ever lived and of course, her.
My grandmother was a saint herself, never imposing, never assuming, never judging anyone out loud. She was always welcoming, always willing to let friends from the neighborhood join us for dinner, and despite all of the obvious Catholicism, she never once mentioned a spiritual topic. She never asked my Dad why I wasn't baptized. She just spread the warmth.
Sipping my glass of water, I noticed my compass was sideways again. Maybe I bumped the wall in a drunken dance the night before, who knows, but I ignored the feeling in my gut, the feeling that told me to stay in my room.
Fuck it, I thought. I was going to the liquor store. I didn't want to wallow. I wanted to have fun. I wanted to make music and to me, buying a bottle was the easiest way to feel inspired. I sprang up.
After locking the door of my apartment and climbing the stairs to the front door of the building, I paused. I heard someone talking loudly outside. He was in motion and he was explaining something.
"You see, this dude owes me money, but he's dodging me. He says he won't have it until next week, but you see…"
Something told me to sit tight and let them walk away before leaving the building. I thought about my compass. I laughed at myself for being superstitious and stepped outside anyway. I guess I wanted to get my phone stolen.