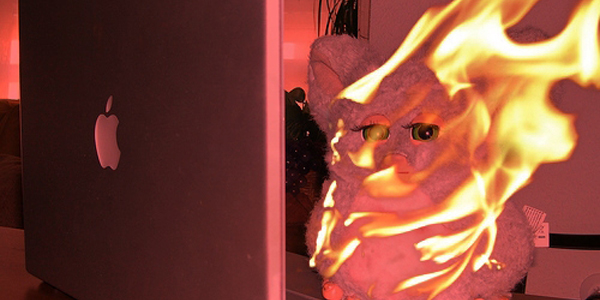 When you have to keep your cool because there's so much work to do.
In its mildest form, anxiety is a feeling of worry, like fearing you left the stove lit. When it attacks, it's like sitting in the fire itself, manifesting suddenly as an urge to flee, or, it tells the body to shut down, stop moving, and forget to breathe. Then, feelings of detachment send the mind into a panic, fearing death, or loss of sanity, causing the person to tremble, sweat, or, become completely silent and still.
Many have experienced moments of it, but most remain undiagnosed. It's become vernacular for millennials to casually say they have anxiety, when in reality, many have experienced only a sliver of the spectrum of the feeling. Fortunately, it's highly treatable and should be handled by clinicians with relevant credentials. But fam, if you ever find yourself burning alive in front of a Macbook, try this.
Blast your brain with sine waves.

Research shows that brainwaves can be manipulated by sound. Listening to specific tones that resonate with the electromagnetic frequencies of the brain activates the Frequency Following Response, when neural oscillations change to match the sound. "Results showed that increase of theta wave amplitude can reduce symptoms of Generalized Anxiety Disorder," according to the US National Library of Medicine.
Meditate with the HeadSpace app.

Meditation has been proven to reduce anxiety, but most find it difficult to begin. HeadSpace is realistic about how it convinces people to meditate. The first session is three minutes, then they gradually ramp you up, sending optional daily alerts to help form the habit. Also, they're not a sponsor, so they get a rating of 3/5 for effectiveness, 2/5 for available free content, and 5/5 for ease of use.
Listen to a coffee shop.

Scientists have found that "a moderate level of ambient noise enhances creativity." A noise level of 70 decibels, such as the ambiance of a coffee shop, was more effective than silence according to a 2012 study. Moderate noise forced the subconscious mind to be distracted from cyclical thought patterns, struggling instead to process the environment surrounding, which freed the conscious mind to escape into creativity.
Make your own music.

We've all passed that musical person in public, rapping while walking, acapella, not even wearing earbuds. I used to think they were weird until I started singing my own music in public. It's easy to forget you're in traffic when you're focused on hitting a melody, and neuroscientists have shown that making music improves neurological function. Worst case scenario, you get roasted in someone's Instagram video.